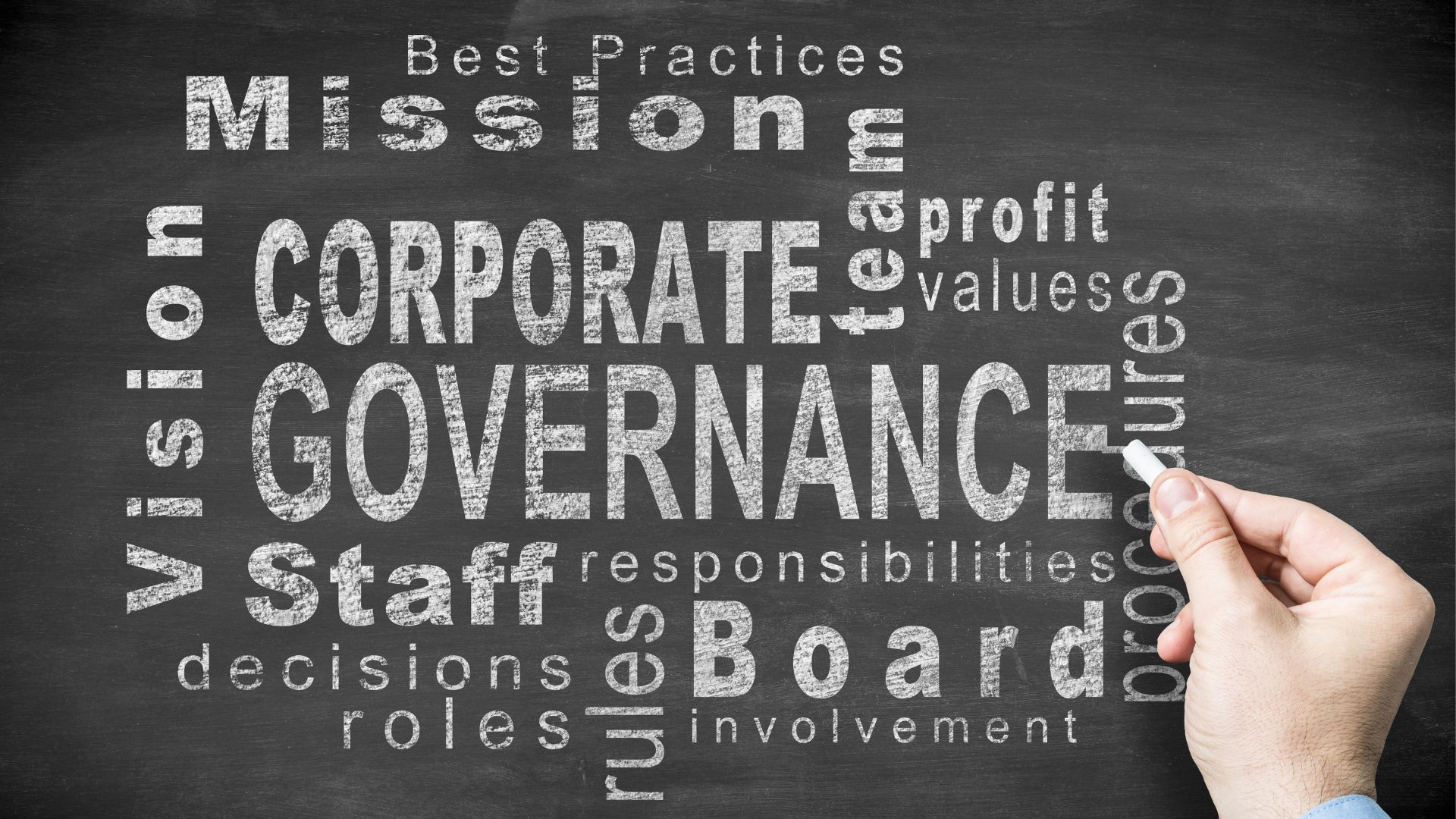 Last year, fashion start-up Zilingo came to everyone's attention for the wrong reasons – its Chief Executive Officer Ankiti Bose was fired as CEO after allegations of financial irregularities surfaced. While this news shocked many, it was not surprising given that similar incidents have occurred in the past. For instance, Theranos' founder, Elizabeth Holmes, who was poised to be the next 'Steve Jobs', was sentenced to more than 11 years in prison, after it was discovered that her claims about blood-testing technology were false.
As these incidents came full circle, it became clear that all of these misfortunes could have been averted if good corporate governance practices had been implemented. Corporate Governance is defined as a system of rules, practices, and processes by which a firm is directed and controlled. To do so, it is crucial to balance the interests of the various stakeholders in a company.
Velocity Ventures has created a Corporate Governance Playbook (Infographic) that outlines the importance of Corporate Governance, with actionable steps that startups can take to implement good corporate governance practices.
Why is Corporate Governance Important?
For many founders, in their journey to become the next Apple, Netflix or Amazon and attain unicorn status, their main priorities would include fundraising, achieving product-market fit, ensuring that their product/service is scalable, etc. This thus puts Corporate Governance at the lower end of their priorities. However, rather than being an impediment, the benefits far outweigh the inconvenience,
An effective corporate governance structure will enable an efficient decision-making process.and will promote trust among investors, key partners and employees.

Benefits of Corporate Governance
Good Corporate Governance practices provide startups with a competitive edge
As opposed to thinking that good Corporate Governance practices is an inconvenient process that is an impediment to growth, founders should understand that corporate governance is a strategic tool that when done right and in an appropriate manner, gives them an edge over their competitors. With the rise of sustainability frameworks such as ESG (Environmental, Social, Governance), there is a greater expectation for firms to be socially responsible.
Corporate Governance is a strategic tool that delivers value to both startups and investors
Communication is a vital component of good corporate governance and it will help to boost overall investor confidence. This will in turn facilitate fundraising, particularly when corporate goals are aligned with the interests of the board, management, shareholders and other stakeholders.
In a company with a good corporate governance framework, it should have aspects that:
Cover every aspect of management
Provide clear action plans
Entrench internal controls
Improve Performance measurement and corporate disclosure
Improves risk management framework
Ensures regulatory compliance
The outcome of good corporate governance is for companies to be profitable and be a good corporate citizen. Corporate citizenship refers to a set of activities or responsibilities of an organization that helps them make a positive contribution to society.
Thus, implementing good corporate governance practices means protecting the interests of all stakeholders such as shareholders, employees, customers, vendors and communities. Stakeholders are defined as parties that have an interest in a company and they can both affect or be affected by the actions taken forth by the business. The typical stakeholders include Investors, employees, customers, suppliers, communities, and governments.
Sir Adrian Cadbury, the producer of Cadbury Report, a code of best practice which served as a basis of reform of corporate governance globally, once said 'Corporate governance is concerned with holding the balance between economic and social goals and between individual and communal goals. The corporate governance framework is there to encourage the efficient use of resources and equally to require accountability for the stewardship of those resources. The aim is to align as nearly as possible the interests of individuals, corporations, and society.'
Pillars of Good Corporate Governance
The principles of good corporate governance can be classified into 5 principles, Transparency, Accountability, Impartiality, Awareness and Responsibility.
The table below is created by the Investment Team at Velocity Ventures, after consulting notable sources such as Harvard Law School, Deloitte & Touché LLP, Corporate Governance Institute, Instituto Brasileiro de Governança Corporativa (IBGC) and PwC, amongst others. It compiles the key takeaways and categorizes each practice into one of the 5 key principles.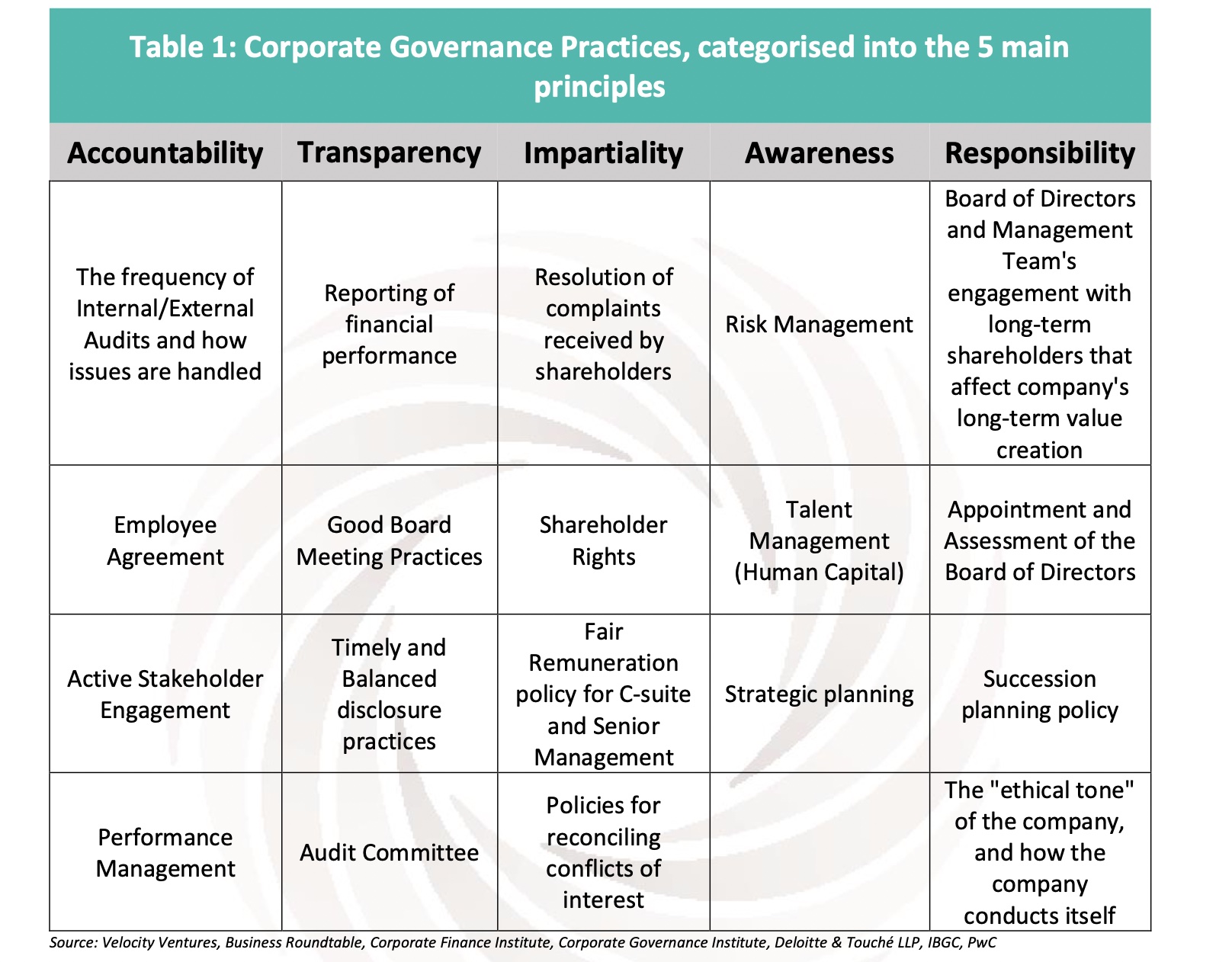 The principles and practices of Good Corporate Governance
Accountability
The first pillar, Accountability, emphasises the board's role in explaining the purpose of a company's activities and the results of its conduct. Since the board and management are accountable for the company's capacity, potential and performance, it is crucial to have prompt and regular communication with the necessary stakeholders i.e., Regulators, Shareholders, Employees, etc.

The practices under Accountability include:
Frequency of internal/ External Audits and how issues are handled
Employee Agreement
Active Stakeholder Engagement
Performance Management
Transparency
This pillar highlights the Board's role of providing timely, accurate and clear information to its stakeholders. Such disclosures include the financial state of the company, potential conflicts of interest, and any risks to shareholders and other stakeholders. The 4 practices highlighted in this pillar are:
Reporting of financial performance
Good board meeting practices
Timely and balanced disclosure practices
Audit Committee
Impartiality
The impartiality pillar suggests that the board of directors must treat shareholders, employees, vendors, and communities fairly and equally. This could be done by:
Ensuring the rights of shareholders
Effective communication and provision of ready access to information about the company
Fair remuneration package for C-suite and senior management
Awareness
This pillar focuses on the board's and management's ability to identify the risks present and execute potential risk mitigation strategies. This entails informing all relevant stakeholders of the existence and nature of existing risks. This can be achieved through:
A sound framework for risk management
Talent management
Strategic Planning
Responsibility
The Responsibility pillar outlines the board's undertaking to oversee all corporate matters and management activities. It must be aware of and support the successful, ongoing performance of the company. It must act in the best interests of a company and its investors. The practices under the pillar aim to achieve these objectives, through:
Board and Management formulation and alignment on Company's long-term strategy
Appointment and Assessment of Board of Directors
Succession Planning
Ethical Climate of the Company

Conclusion
While there is no one-size fits all approach to Corporate Governance, we hope to provide founders with a comprehensive to-do list to help them get started. The recommendations provided are aligned to different growth stages. This ensures that founders can take on a progressive approach to implementing important business processes that can help them build up a strong governance framework and will be beneficial to their company's future success.
In conclusion, implementing effective corporate governance is an ongoing journey, and it is important that startups should strive to learn what best practices suits them and improve along the way.
By prioritizing good Corporate Governance practices, startups can prevent costly mistakes and damage of reputation, which would also help them to gain access to capital and provide them with an edge over their competitors.
The best time for startups to implement good Corporate Governance practices is now.
---