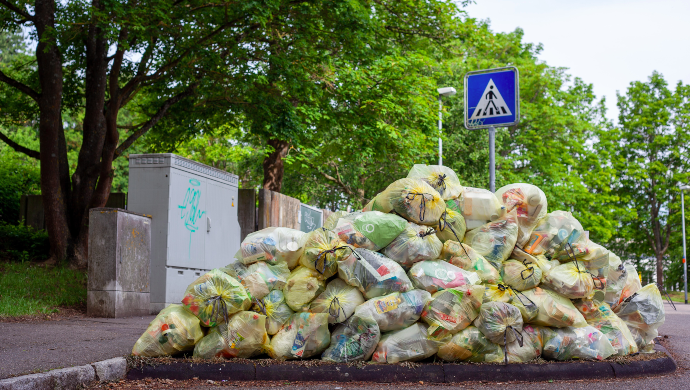 by Sainul Abudheen K, e27.co
In 2019, Singapore generated 744M kg of food waste, which is equivalent to 2 bowls of rice per person/day, or around 51K double-decker buses!
Food waste is a colossal problem. It damages global economic and environmental resources.
Globally, one out of nine people has no access to food. This is alarming, considering that one-third of all the food produced is lost or wasted every year.
Besides, the wastage of food comes with a huge price, as it consequently results in hiking the food prices. Then there is loss of land, water, and biodiversity, in addition to the negative impacts of climate change.
Things are appalling in Southeast Asia as well. In Singapore, the amount of food waste generated has grown by about 20 per cent over the last 10 years. In 2019 alone, the city-state generated around 744 million kg of food waste, which is equivalent to two bowls of rice per person per day, or around 51,000 double-decker buses.
Indonesia wastes about 300 kilograms of food per person every year, making it among the largest food wasters in the world, Economist Intelligence Unit (EIU) data revealed.
According to SWCorp Malaysia (Solid Waste and Public Cleansing Management Corporation), about 16,667.5 tonnes of food waste is generated in Malaysia daily.
In Vietnam, 87 per cent of the households admitted that they waste two plates of food per week on average. In Ho Chi Minh City alone, food waste accounts for more than 60 per cent of the city's 8,300 tons of solid waste per day.
In Metro Manila, the Philippines, it is estimated that over 2,000 tons of food are wasted daily and about 308,000 tons of rice are wasted annually.
Tackling this crisis is crucial for addressing global hunger and saving the planet. As per Food and Agriculture Ognanization of the UN, food wastage reduction would not only avoid pressure on scarce natural resources but also decrease the need to raise food production by 60 per cent to meet the 2050 population demand.
The role of tech
According to London-based Aquaa Partners, tech and tech-driven business models have huge potential in reducing food wastage across the value chain. They can deliver a high return on investment for both traditional and foodtech companies.
In many countries, food waste management is handled by governments. But the gravity of the issue is such that mere government-level efforts are inadequate.
Of late, several entrepreneurs have given serious attention to this problem, and they have come up with innovative tech solutions.
There are mainly three broad categories in food waste management: food waste prevention, food redistribution, and food waste recycling.
1: Food waste prevention
It refers to the prevention of food waste before it happens. Essentially, companies working in this space try to help restaurants/hotels/eateries prevent and minimise food waste from being generated.
Singapore-based Lumitics is one such startup. Its solution empowers chefs with visibility on their food waste as a feedback loop, so that they can take the necessary steps to reduce it. The solution comprises image recognition, AI, and data analytics to provide meaningful and useful insights into what is being thrown away.
Manila-based Mosaic Software is also operating in this vertical, although its core mission is not food waste management. Mosaic works in the background to help prevent the problem that leads to food waste. Its purchasing system makes sure that orders for food are placed only when the inventory drops to a designated level.
2: Food redistribution
There are many tech and non-tech companies and charity organisations around the world that take surplus food from restaurants and hotels and redistribute it to the needy.
Singapore-based TreeDots offers a B2B platform that allows suppliers to redistribute their unsold inventory to organisations that can use them. By doing so, suppliers gain from salvaging value off their unsold inventory, and buyers get quality ingredients at lower prices.
TreeDots serves a range of food service operators such as restaurants, caterers, cafes, hotels, and central kitchens.
UglyFood is another local startup working in the redistribution space. It sells excess produce (fruits and vegetables) and creates awareness against food waste in a fun and light-hearted way.
In addition, it offers a multiplayer puzzle game, Uglyfood Matchwars, which teaches players the difference between perfect, ugly/blemished and spoiled food products.
In Indonesia, there is a youth movement, called Garda Pangan, which is focused on food waste eradication and hunger relief. Its activities include food rescue from restaurants, bakeries, and hotels; food donation boxes; fruit and vegetable gleaning from farms; and education about food waste and its effects.
In Malaysia there is Grub Cycle. It is a social supermarket that allows anyone to purchase groceries, pastries and perishable food that are typically removed from shelves due to being close to expiry, damaged packaging or unique in appearance — all at a bargain price.
3: Food waste recycling
Food waste generated by households, restaurants, and corporations mostly end up in landfills, and its decomposition contributes to greenhouse gas emission, which can harm our environment.
Some companies have found a way to address this issue by converting food waste into compost and energy.
Malaysia's MAEKO converts food waste into bio-organic compost for agriculture. This way, it allows food waste that comes from the farms to go back to the farms as fertiliser for future food.
Singaporean startup TRIA has developed Bio24 to convert food packaging and waste into compost within twenty-four hours.
Flavorgator is another player. It offers a food rating app that tackles the issue of food waste by nailing down what dishes are disliked on menus.
Hosokawa Micron, based in Malaysia, converts food waste into compost. It also processes the waste with its size reduction machine and uses processed waste material in the biogas plant.
VCs are noticing
Of late, venture capitalists have started pouring money into the sector. During the 2018-2021 period, about US$1.4 billion was invested in food waste management startups around the world, according to Aquaa Partners.
But this amount is paltry when compared with the billions of dollars pouring into other food-tech verticals, such as food delivery and cloud kitchen.
Industry experts say that there is a lot of investor appetite in the food space around the world at the moment.
"Food waste is a trillion-dollar problem. Generally, there's an economic opportunity when you solve a big problem," said Nicholas Cocks, MD of Velocity Ventures, a hospitality- and travel-focused VC firm and investor in Lumitics. "When there's a big problem, investment money will naturally flow and I think we'll certainly see it in the future."
Besides this, sustainability as an investment trend is popular at the moment and that will accelerate the capital flow into the vertical.
"Number 2 in UN's second goal in Sustainability Development Goals (SDGs) is addressing hunger, which is a key issue around food wastage. These two are interconnected and are getting investors' attention," he said.
Disparity in regulations and enforcement a challenge
Food waste management is a heavily regulated sector and is often handled by government contracts. Waste disposal often takes place at government-run facilities. That is the case across Southeast Asia and around the world.
Because of governments' involvement in the sector, they have a huge opportunity to drive outcomes. When they control illegal food waste disposal and tax and price it to drive recycling, sustainability and waste reduction outcomes, then there is an opportunity.
If the disposal costs nothing, then people will just dump their waste on the streets. It is hard to build a business around recycling and waste reduction when the cost is zero.
If the cost is high, then the economic incentive for waste generators is very high to introduce new solutions and reduce their cost of waste.
"Regulations and the enforcement are very disparate across the region. We would like the government to increase the cost of disposal through taxation and other levies to encourage recycling and waste reduction, and we'd also like to see stronger enforcement of these regulations," elaborated Cocks.
The COVID-19 pandemic has also been a challenge, with many hotels remaining closed and flights grounded. This means the food waste generation is low. "Last year was challenging for us because pretty much all our clients had to close their businesses," said Loi. "But we are starting to see quite a bit of recovery."
Sustainability reporting is trending
Over the last couple of years, hotels have started thinking harder about food waste reduction. The COVID-19 pandemic has further accelerated this.
"Hotels are highly incentivised to do that because when they reduce the amount of food waste generated, they reduce their food costs and at the same time become more sustainable," said Loi. "That is a big trend we've been seeing."
Many organisations in Asia have also started doing sustainability reporting. They include hotel chains and airlines. Customers are also pressuring companies to do sustainability reporting.
"Some of our partners and customers, who run large conventions and exhibitions, have now started asking for impact reports. They want to know how much food was wasted, how much plastic was used, and also about the carbon footprint generated from the events," Loi pointed out.
"So, hotels are also starting to realise that for them to be able to meet those requirements, they need solutions to help them track those things well. We have been able to show them that we already have a food waste reduction framework in place," the Lumitics CEO said.
What is the future?
With the rich-poor divide widening globally, the number of people going to bed with an empty stomach has been on the rise. Global warming and climate change are also accelerating at an alarming pace. Wastage of food globally, colossal in nature and costing billions of dollars to the world economy, not only pushes more people to destitution and poverty but is also destroying the planet. And both are posing a huge threat to humanity.
The gravity of the crisis suggests that there is huge potential for thousands of food waste management companies, especially in Asia, Africa, and Latin America.
Main photo by Jasmin Sessler on Unsplash