SINGAPORE, 4 OCTOBER 2022 – Velocity Ventures, Southeast Asia's leading venture capital firm focused on helping travel and hospitality solve industry challenges will be the anchor investor for Hyper Food Robotics (Hyper), an Israel-based firm that will debut its first fully autonomous robotic pizza kitchens in 2023.
With Hyper's autonomous robotic kitchens, it takes 8 mins to cook a pizza for the end-to end process and the kitchen can produce up to 120 pizzas per hour. An unmanned kitchen can operate three times more efficiently as compared to a human-staffed kitchen by reducing overheads for labour and rental costs, and also minimising food waste. The modular units are easy to transport ensuring ease of scalability. Using AI technology, the robotic kitchen is able to ensure consistency in food quality and safety standards.
Hyper is the brainchild of Udi Shamai, Yariv Reches and Harel Shafran. CEO Udi is a well-known entrepreneur and owner of Pizza Hut Israel with over thirty years of managing fast food restaurants. Faced with rising labour costs and challenges to recruit kitchen crew, Shamai decided to explore how robotics and automation could alleviate the persistent problems of manpower shortage. He decided to bring together a team of experts in the fields of food, robotics, and mechanics to design a fully autonomous store that can increase efficiency and reduce reliance on a human workforce in the food services industry.
Off-Premise Food Service
The goal is to design a self-contained total solutions robotic box kitchen for fast food restaurants which will replace an entire restaurant kitchen and automate the entire process from food preparation to cooking and even packing the food for delivery without the need for any kitchen crew to be involved. With modular autonomous kitchens, clients can essentially operate off-premises food services using a "plug and play" boxed kitchen, ensuring ease of scalability while maintaining manufacturing costs are kept economical. Shamai is also committed to ensure that quality assurance and food quality is not compromised.
Nicholas Cocks, Managing Partner of Velocity Ventures said: "We are excited to be investing in the Future Restaurant Kitchen as we know that restaurants all around the world are facing a manpower crisis. Our strategic roadmap at Velocity Venture is to identify and propel startups that will solve problems faced by businesses in the hospitality and travel industry. Hyper's robotic kitchen will be tomorrow's disruptive technology for the food services industry as labour shortage challenges escalate because more people now shun back-of-house operations jobs. Automation and robotics can help companies achieve lower labour costs and improve productivity by taking over repetitive tasks in the kitchen, allowing restaurants to redeploy their employees to other parts of the business that will improve the customer experience."
Udi Shamai , CEO and Co-founder of Hyper Food Robotics "Having Velocity Ventures come onboard as our anchor investor is a major milestone for the team at Hyper. We debuted our pilot store in October 2021 in Israel with Pizza Hut introducing a robotic kitchen that can prepare and cook pizzas and side dishes. We envision exciting times ahead as we grow and scale globally with the right partners. We aim to launch Hyper "robotic box kitchens" internationally by next year which will be a gamechanger for any food services operator wanting to deploy a cloud kitchen in which all automated technology and production zones are packed within a self-cleaning shipping-container-like unit."
Velocity Ventures is the most proactive investor in the travel and hospitality tech space in Southeast Asia and including Hyper, has seven portfolio companies. The firm also aims to make ten additional investments in the sector by Q4 2023.
To download Hyper images, please click here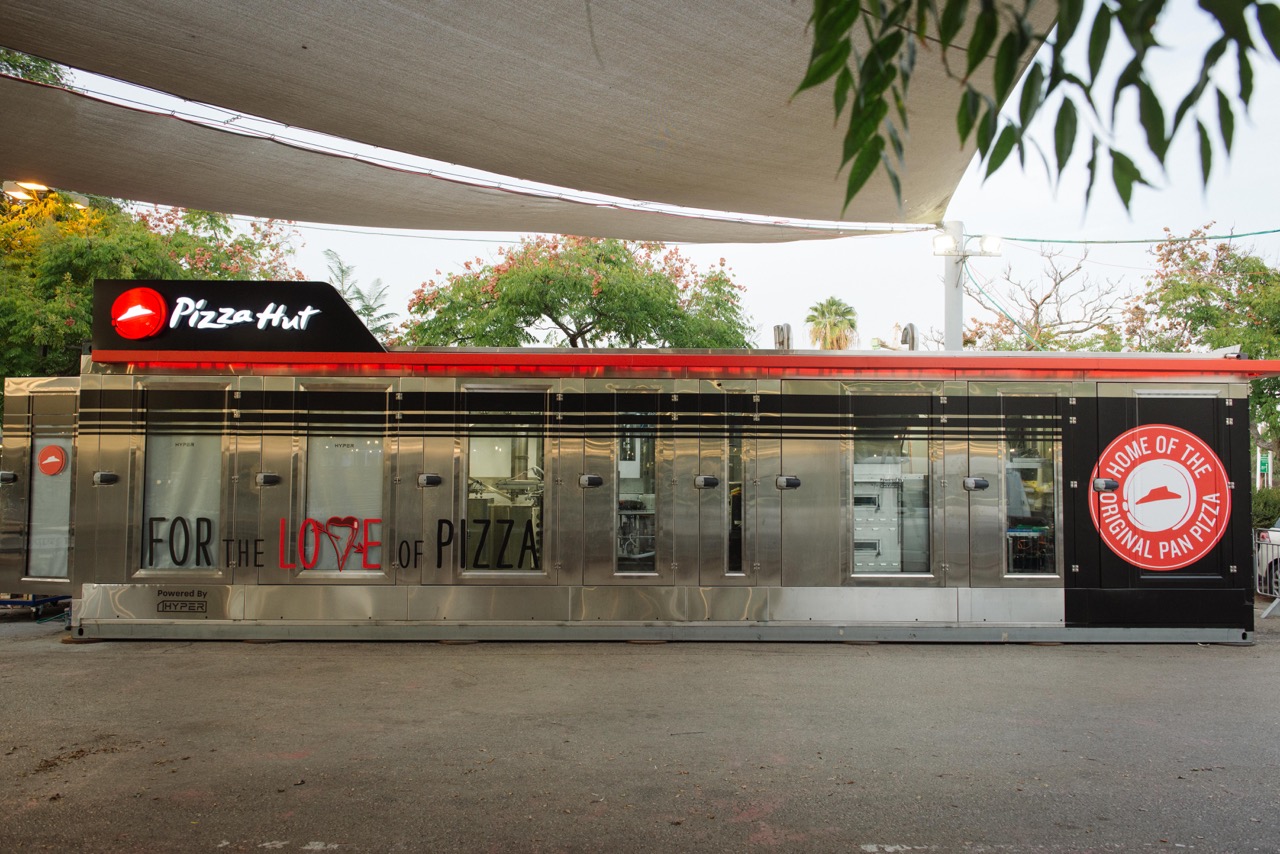 About Hyper Food Robotics
Hyper Food Robotics (Hyper) is a leading innovator in the field of autonomous fast-food restaurants. As a solutions provider to food-service operators, Hyper designs, builds, and operates fully autonomous robotic box stores that can perform all functions in a fast-food kitchen without the need of a human workforce. Hyper's Robotics Box Kitchens are erected on a platform of a 40-foot container and are fitted with robotic solutions that can be easily reconfigurable, ensuring ease of scalability and flexibility in mobility. This ground-breaking concept will propel the food service industry towards operations process excellence as it seeks to help businesses deploy cloud kitchens faster and easily. Hyper operates their Robotics Box Kitchens as part of its end-to-end solutions, taking care of maintenance and supervision.
The firm's leadership team are veteran executives in the fields of food, robotics, and mechanics and CEO Udi Shamai is a well-known entrepreneur in the field of restaurant technology. Udi has 30 years of experience in managing fast food chains such as Dominos, Pizza Hut etc. (www.hyper-robotics.com)
About Velocity Ventures
Velocity Ventures is a Singapore-based venture capital firm with a unique focus on the Hospitality and Travel industry in Southeast Asia. We invest in visionary entrepreneurs who are passionate about reshaping the Hospitality and Travel sector, with a focus on early to growth stage tech-enabled companies across 5 verticals: Travel Services, Transportation, Accommodation, Food & Beverage, and Experiences. (www.velocityventures.vc)
MEDIA CONTACT:
Florence Ang
On behalf of Velocity Ventures
Email: [email protected]
Mobile: (65) 9691 1404
Velocity Ventures' Other Portfolio Companies


Aigens:
Aigens provides fully integrated mobile, middleware and hardware solutions to help restaurants and hotels grow revenue, improve productivity and deliver superior customer experience.  Aigens AI-powered solutions allow mobile, BYOD, online, and kiosk omni-channel ordering solutions, and integrate with over 100 POS, payment and delivery platforms providing Asia's only fully integrated restaurant and hospitality operating system.


Food Market Hub:
Food Market Hub is an end-to-end procurement management platform which automates all back-end operations for F&B businesses. Food Market Hub allows restaurants to manage existing suppliers and connect with new suppliers, all while providing seamless payments options, and minimizing food cost and wastage using AI. Likewise, suppliers use Food Market Hub to manage and consolidate orders and collections. Food Market Hub is building towards the future of F&B by enabling this massively underserved segment with a complete ecosystem covering sourcing, supply chain and financing.


Tablevibe:
Founded by ex-Googlers, Tablevibe is a commission-free online ordering system for restaurants and aims to help restaurants drive pickup and delivery orders on their own websites & apps. The platform also help restaurants attract new direct customers, boost online ratings, and grow customer lifetime value.


TripGuru
A local tour operating platform that designs authentic travel experiences and connects travellers to its network of top-quality tour guides. The tech-enabled platform empowers local tour guides with the tools to engage a larger global audience, convey their local knowledge and commitments to sustainable tourism. With over 350 curated experiences across 18 destinations in 7 countries, TripGuru supports multiple languages to cater to a wide demographic of travellers visiting Southeast Asia and Latin America. 


ZUZU Hospitality:
ZUZU helps independent hotels grow their revenues by solving their Revenue and Distribution Management challenges with a proprietary all-in-one hotel operating system. ZUZU offers resource and time-strapped hotels the technology and expertise of larger hotel chains with none of their associated costs and restrictions.


ZYTLYN Technologies
ZYTLYN helps companies address their most important retailing and eCommerce challenges and opportunities with actionable predictive insights. ZYTLYN Demand Forecast, is a unique product focused on providing predictive travel intelligence to airlines, travel agencies, airports, destinations, hotels, car rentals, retailers, and luxury brands. Powered by global data and Machine Learning technology ZYTLYN Prediction Platform gives customers the ability to optimise decision making leveraging predictive demand. ZYTLYN is helping the world's largest industries adapt, recover and grow faster, with a total addressable market of about $50 billion.